Own Label Supplements Branding Service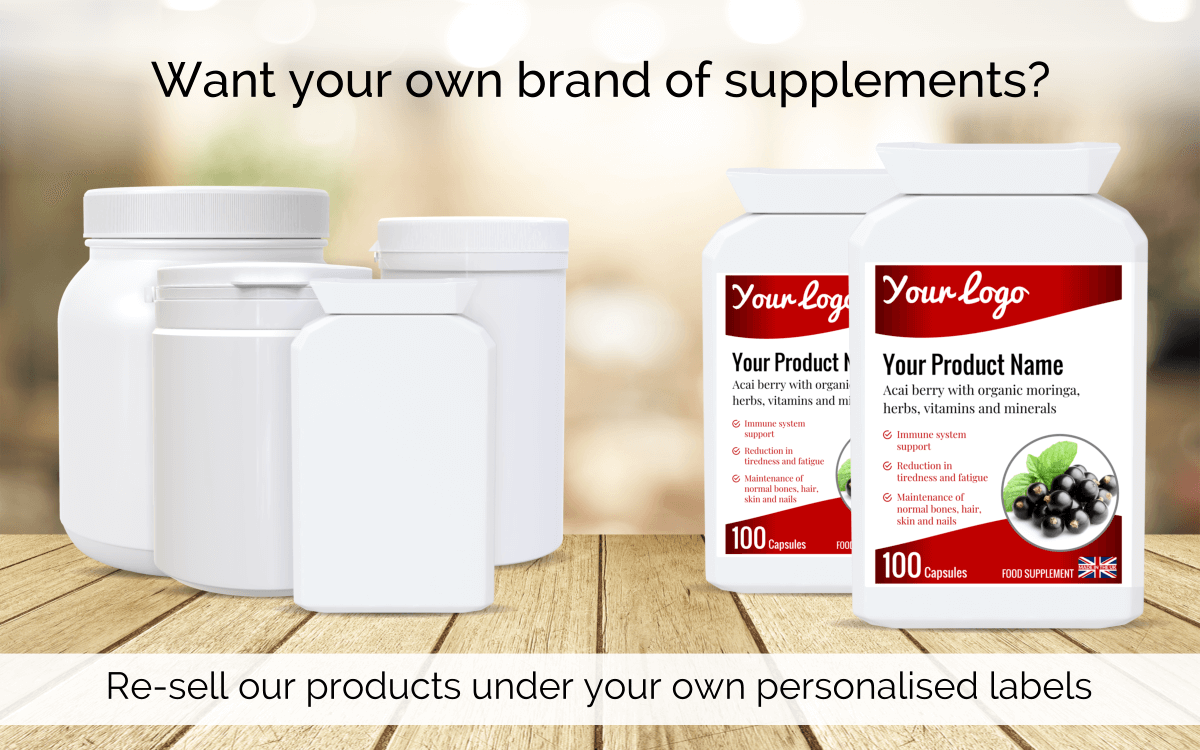 Selling your own brand of supplements, know as white label, adds prestige to your company, gives you pricing and marketing flexibility and helps you to stand out from your competitors. Quickly and easily set up your own bespoke labels range by reselling our quality-assured, UK-made market-ready supplements under your own labels.
For a small one-off fee, we will set up, design and print your personalised labels for orders you place with us. These can be wholesale bulk orders or dropship orders which we ship direct to your customers.
We do not charge any extra fees for our white label dropshipping service.
Our label printing is FREE for life.
Alternatively, you can re-sell our food supplements using our Specialist Supplements Ltd branding labels.
​
Watch our video on white label service
​
View our design gallery
Small one-off fee

No minimum order
No contracts

FREE label printing for life
Set your own re-sale prices

Also available for dropship orders​
How own label setup works
We will guide you through your bespoke label setup process, step-by-step - it's very simple, as we do most of the work!
TOP TIP: Check out our Own Label FAQs, once logged in - they contain important information for Own Label customers!
How will my labels look?
You get to pick from a number of template designs. We then personalise your chosen design with your logo, colour scheme, product names and contact details. Alternatively, you can provide us with your own artwork, in the required dimensions.
Pot images
If you need images of your Own Label products for your website, advertising materials etc, we can generate these for you. See the example on the right or visit our gallery.
Save on costly photographer fees.
Check out the Own Label Bundle for more information.
Own Label benefits
Still not convinced that Own Label supplements is for you? Here are a few more reasons you should give it a try.
Your own unique brand
Being able to present customers with your own range of white label supplements not only inspires confidence in your business, products and services, it also helps to build brand recognition in the marketplace, so that your products can be differentiated more easily from those of your competitors.
What's more, having control over product names and the general look of your labels means that you can target specific markets and align the branding to your existing or desired customer base and industry.
Customer loyalty and increased sales
Your own labels promote stronger customer recognition and loyalty, an essential step in establishing, building and maintaining your hard-earned customer base. Personalised labels, with your own contact details (including web address etc) and unique product names leads to a higher level of repeat business.
Bigger profit margins
With unique product labels, you don't have to worry about customers making same-brand price comparisons and therefore have the freedom to set re-sale prices at a level you choose. This often equates to higher profit margins.
Ideal for small businesses and start-ups
Small companies and start-ups often lack the resources to formulate, manufacture and/or package the products they want to sell. Such costs can be prohibitive and yet they want to enter the market as a unique business with an identifiable brand.
Own Label is the perfect solution, when accompanied by a no minimum orders policy and a small, one-off set-up fee such as ours. We will even dropship your own label orders direct to your customers at no extra charge - just a small postage fee.
Labels in any language
We offer you the option to provide your own label artwork, featuring the language of your choice. Further information is available on the Own Label FAQs page once you are logged in to your account.
How to get started
It's easy! All you need to do is log in to your trade account, purchase one of our Own Label packages and read our FAQs. We will then send you a questionnaire, which will include all the information we require from you to get started. That's it!
Any questions? If you have any questions about our Own Label service, which aren't answered on this page or in our FAQs, please contact us here.
If you are not already a registered trade customer, click the link below.